Horus Premium Tints Flagship for Proton X50 (Sun roof Included) | Offer Price: RM2,820 | Booking Fee: RM520
Roll over image to zoom in
Click to open expanded view
RM520.00
| Specification | |
| --- | --- |
| Brand: | Horus |
| Category: | Horus Premium Tints Flagship |
Horus Premium Tints Inclusive Package:
1 x Tinting of front and rear windscreen
1 x Tinting of rear left & right passenger glass panel
1 x Tinting of rear left & right fixed glass panel
1 x Tinting of retractable sunroof glass panel
1 x Tinting of fixed sunroof glass panel
Warranty:
Limited lifetime warranty for solar tints option.
5 years warranty for security tints option.
Delivery:
Valid for 6 months from date of purchase
Booking Fee:
RM520
Report Abuse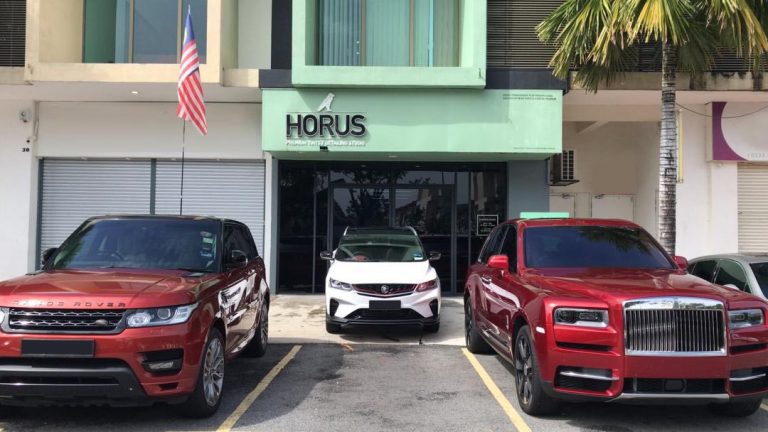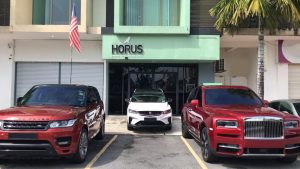 Horus Premium Tints
HORUS PREMIUM TINTS, an innovative advancement, engineered by using the revolutionary breakthrough technology. Bio Nano-Ceramic combined with photochromic technology has enabled us to provide the ultimate and uncompromising results and the ability according to the varying sunlight.
Inspired by transition technology, the development of Horus Premium Tint with photochromic effect was the result, which enable increased reactive performance when facing the strongest sunlight. This invisible heat shield darkens under the hot sun whilst reducing glare and increases the infra-red rejection up to 98%. However, it lightens back to normal with the disappearance of sunlight. All these while, the films remain aesthetically clear and provide comfort all day and night.
Designed without any metal elements, produced by using superior optical clear polyester (P.E.T) to allow maximum natural sunlight with low reflectivity appearance. It also does not interfere with electronic instruments from automotive devices. Unlike traditional window films which provide only color and insignificant heat rejection, or use metal elements which will cause high reflectivity like a mirror and highly susceptible to corrosion and discoloration.
Horus Premium Tint is engineered to reject maximum heat that includes near infra-red (780nm to 2500nm) to far infra-red (longer than 2500nm) wavelength or simply translated to reject up to 98% infra-red rays during the hottest of times. These tints not only enhances comfort but also provides energy saving. In addition, you loved ones will be protected from the sun's harmful ultraviolet rays up to 99%, which is also the largest component that causes skin cancer and fading of interior furnishings.
Horus Premium Tint is designed to create a new era in window tint standards. With all these features and obvious differences. It is able to meet all your automotive needs and requirements.
Product Warranty:
Limited lifetime warranty for solar tints option.
5 years warranty for security tints option.
…………………………………………………….
Horus Premium Hybrid Coatings
HORUS PREMIUM HYBRID COATING is an advanced technology formula that is the amalgamation of ceramic & quartz glass coating, developed as a non-organic solution to address the various deficiencies of the other coatings in the industry. The synthetic composition of HORUS PREMIUM HYBRID COATING incorporates microscopic bonding characteristics, adhering securely to the paint. Curing into one, the hard resin in HORUS PREMIUM HYBRID COATING acts as an additional barrier to repel contamination from the harsh environment and in to increases shine, whilst preserving the natural paint lustre for an extended length of time.
Aside from benefiting from a 9H resistant to protect your car paint's clear coat, all grime such as dirt, dust, dead bugs and other contaminants fouling the surface will easily be removed with regular washing, not to mention the water beading effect from the hydrophobic properties that keeps your car cleaner for longer. HORUS PREMIUM HYBRID COATING is backed by a 5-year warranty with a maintenance free package.
Product Warranty:
5 years with complimentary yearly coating maintenance includes complimentary car wash done once every month during the warranty period.